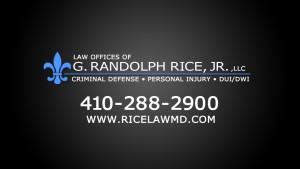 Facing criminal charges may be one of the scariest life events.  You may have made a mistake or the police made a mistake and identified you as the person that committed a crime.  Now you're receiving notices from the Courts or the police want to ask you questions.  You probably have a sinking feeling in your stomach and all you can think about is losing your family and freedom.  You need to speak with an attorney right now but you don't know who to call or who to trust.
That's where we come in. The Law Offices of G. Randolph Rice, Jr., LLC was founded by an attorney that understands the process and procedures for all types of criminal cases in Maryland.  Attorney Randolph Rice is a former Assistant State's Attorney and has represented criminal clients since 2009.  He has handled every type of criminal case from misdemeanors to felonies.
You want to hire a lawyer that not only knows the law, but understands the procedures and players in the legal system.  There is more to a criminal case than just the police, Judge and jury.  You want a lawyer that knows the State's Attorneys and detectives. You want a lawyer that knows which Judge you don't want to appear before for your case.  Judges are human beings and they have tendencies and pet peeves.  You don't want to take a theft case before a Judge that despises employee theft cases.
A criminal defense lawyer that understands how you feel and how much you want to get this horrible experience over as soon as possible with the best possible outcome.
You also want to hire a lawyer that knows your case and keeps you updated on what will happen next.  There are different phases to each criminal case in Maryland.  Whether you're facing a misdemeanor or a felony charge, there are various steps throughout the process.  You want to make sure you can call your lawyer as much as possible for updates, and you want a lawyer that will return your call within 24 hours with an answer.
Criminal Defense Lawyers – Baltimore, Maryland
Attorney Randolph Rice defends clients throughout Maryland and in particular; Baltimore County, Harford County, Howard County, Carroll County, Cecil County, Baltimore City, Anne Arundel County and Worcester County.
He knows the Judges, he knows the prosecutors and court personnel and he knows what to do and when to do it for these jurisdictions.
The Law Offices of G. Randolph Rice, Jr., LLC, is a Baltimore criminal defense law firm that will work with you to resolve your case with the best possible outcome.  Contact the office at (410) 288-2900 and speak with Randolph Rice. Or you can email him directly for immediate help with your criminal case.
Attorney Randolph Rice is a former Assistant State's Attorney. He has been recognized by Super Lawyers as a Maryland Rising Star for multiple years.  He has a Avvo 10 out 10 Superb rating and is Lead Counsel Rated in Criminal Defense.
Make sure you have someone by your side that will fight for you on your day in Court.  They offer free consultations. Call the office today to schedule yours.