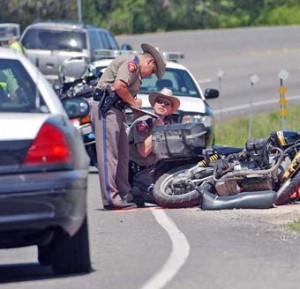 Motorcycles attract the adventurous person, and they truly allow us to enjoy the open road. If you own one, it's likely your favorite mode of transportation. Unfortunately, they also make you more vulnerable when driving, and accidents can be common due to larger vehicles making careless moves. If you need a personal injury lawyer from injuries you suffered while riding a motorcycle, then the Law Offices of G. Randolph Rice Jr. in Maryland can help you.
Motorcycle Accident Lawyers in Baltimore, Maryland
Insurance companies aren't always able to fully investigate and assess your accident, and of course they likely want to save as much money as possible. Or they will try to find a way to argue you were at fault, and thus deny your claim because they say you contributed to the accident. You want someone who's on your side and fighting for you the whole way. Accidents are scary and always inconvenient, especially when you don't have the full safety features that a normal car or SUV has. You want the best of the best representing you for your personal injury.  Call the office today to schedule a free consultation and get the money you deserve.
Experienced Motorcycle Accident Lawyers
An experienced lawyer can take the time to ask you questions and do the necessary research in order to get you the justice you deserve. Randolph Rice has had the practice and learned through year of practice the best ways to serve his clients. It takes perseverance and skill to represent someone involved in a motorcycle crash, and having the right motorcycle accident lawyer can save you time and sanity. If you feel like you're entitled to more due to a motorcycle accident, then you owe it to yourself to get a specialist on your case.
Maryland Motorcycle Accident Lawyers – Here to Help
So regardless of whether you've had a small incident or a major wreck, we've seen and done it all. We're here to listen and help you through what can often be a complicated legal process. There are so many forms, restrictions and rules to know that it would be very difficult to represent yourself — and likely not worth the effort.
You'll need to know whether or not you can collect wages that may have been lost due to your accident, how the state prosecutes unsafe or possibly even drunk cases (if the person who hit you was intoxicated.) You likely have an insurance policy with all sorts of clauses that you're not aware of. For example, you already have Personal Injury Protection (whether the accident was your fault or not) which covers a certain percentage of the cost of your injury. The Law Offices of Randolph Rice can go over everything in simple language and advise you of the next best moves. The extenuating injuries of a crash can last for years, so you need to protect yourself now.
Your Motorcycle Accident Lawyers – Available Today 410.288.2900
Choose us to take as much of work and pressure off of you as possible. The last thing you need after a disaster is to be faced with a lot of decisions about the legal world that you may or may not understand. Insurance companies count on this and look for loopholes so they can deny you what you deserve. You can trust us to deliver results when you need help. Give us a call today and walk us through the basic of your case, we'd be happy to take it from there.
Call the office today to schedule a free consultation and get the help you need after a motorcycle accident in Maryland. Call 410.288.2900 for immediate legal help.